Yen Chao Chen, MSOM, L.Ac.
Biography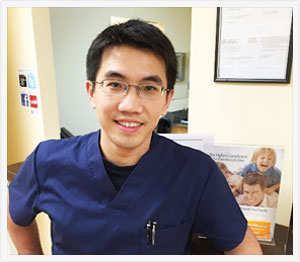 Yen Chao Chen L.Ac. is a California board certified acupuncturist and herbalist. After graduating from the postgraduate program of the Chinese Medicine Department of Alhambra Medical University situated in Los Angeles in 2012. Yen Chao Chen succeeded in achieving certification as a licensed California acupuncturist. His outstanding performance during the clinic apprenticeship was greatly approved by his advisors and university professors. Yen Chao Chen continually learns and expands his skills even after become a board certified acupuncturist. He enrolled into Doctor of Acupuncture and Oriental Medicine Program in Dongguk University of Los Angeles since early 2013.
Yen Chao Chen was born and raised in Taiwan. He was very interested in Chinese Medicine since he had a special and remarkable experience treated by Chinese Medicine, he started to contact and get knowing Chinese Medicine since he was teenager. He had experienced the miraculous healing power of Traditional Chinese Medicine. His nasal polyp disease was healed completely with the holistic approach within 6 months. Since then, he has been a believer of Traditional Chinese Medicine and set his mind to become a practitioner of this ancient healing art.
Yen Chao, Chen LAc., is passionate about providing affordable health care to his community through acupuncture and herbal medicine. As a practitioner, Yen Chao is dedicated to fostering and promoting optimal wellbeing and balance for the body, mind, emotions and spirit.
Yen Chao, Chen LAc.'s clinical treatments focus on providing comprehensive services – blending Western science and Chinese medicine to form a holistic approach to health. Yen Chao's specialty is in treating chronic and acute pain, stress reduction and emotional disorders. In addition he also has a rich background treating women's health care, with extensive training and experience in issues concerning fertility, pregnancy support, postnatal care, menopause and gynecological imbalances.
Kuo Hung Liao, MSOM, L.Ac.
Biography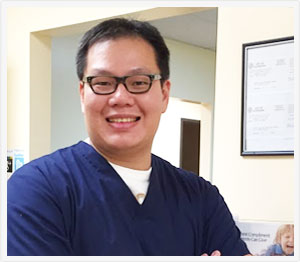 Kuo Hung Liao, MSOM, L.Ac. is a licensed Acupuncturist and Clinical Herbalist in the state of California. He received his Master's Degree in Acupuncture and Oriental Medicine from Alhambra Medical University in 2012. In the effort to broaden his knowledge in the realm of Traditional Chinese Medicine, Kuo Hung Liao also enrolled in the Doctor of Acupuncture and Oriental Medicine Program of Dongguk University of Los Angeles since early 2013. In addition to the Oriental Medicine training in America, Kuo Hung Liao also has a bachelor's degree of Horticulture Science in Taiwan, where he gained extensive knowledge in herbology.
Kuo Hung Liao was born and raised in a Taiwanese family with strong Chinese Medicine background. In United States alone, he has seven family members who are licensed practitioners of Traditional Chinese Medicine. Before Kuo Hung Liao started his own practice, he had worked for Evergreen Herbs, an industry-leading herb company offering premium herbal extracts, for more than 10 years. Evergreen Herbs is also a proud sponsor of continuing educational seminars where Kuo Hung Liao had the opportunity learning from masters in the field. The accumulated experience made him stand out from the peer acupuncturists and herbalists.
Kuo Hung Liao specializes in treating various kinds of pain, sub-health status, TCM internal medical disorders, and women's health related issues. His believes the true healing is done by the body's self healing mechanism, and this mechanism mostly happens when the body is in a balance status. Therefore, the treatment should balance the person's body, mind, and spirit, not just masking the symptoms alone.